Starts: April 1, 2023     Theme: Better Balance for Fall Prevention
April Falls Month® is an annual campaign to raise awareness about the impact of falls and to promote the latest best practice fall prevention strategies. The overall campaign goal is to get active and improve balance for fall prevention.
The last year has been a gradual return to normal, however many activities and events have continued to be disrupted. This may have lead to a reduction in peoples social activities, exercise classes and general health. The Better Balance for Fall Prevention campaign, supported by COTA NSW, aims to help Australian's find appropriate exercise programs to meet their needs and interests.
This campaign includes toolkits for Health Professionals and Fitness Trainers to help you promote Better Balance for Fall Prevention to your existing clients and to help you reach older adults who are looking to start an exercise program. These resources compliment a public awareness campaign which is being carried out through media, Health Networks and organisations advocating for older people and we hope for them to be recognised by adults seeking to begin an exercise program.
These resources are freely available below to be downloaded and shared.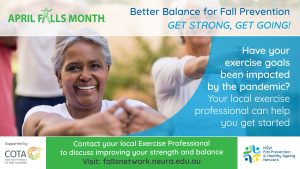 Resources to support and promote your work in fall prevention
We have developed a number of social media tiles for you to use to promote the campaign and your business.
Suggested text to share with social tiles:
#AprilFalls month is a great time improve your strength and balance, I/we can help you get started and keep you on track. Contact us for more info / book an assessment on name@email / phone xxxx"
Contact your local Exercise Professional tile
Exercise guide tile (right)
ESSA branded campaign tile for EP's
We have also developed a powerpoint presentation that can be used in any AprilFalls event which provides and overview of the problem of falls, the evidence for fall prevention and a number of useful resources to help in any fall promotion program.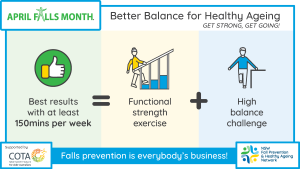 World Guidelines for fall prevention released!
World guidelines for falls prevention and management for older adults: a global initiative
Montero-Odasso, M., van der Velde, N., Martin, F.C. et al. 2022. doi:10.1093/ageing/afac205
Age and Ageing, Volume 51, Issue 9, September 2022
pdf available
The World guidelines for fall prevention and management for older adults were launched at the recent Fragility Fracture Network Congress in Melbourne last week. Developed by a task force of 96 experts across 39 countries they aimed to provide guidelines for healthcare professionals working with older adults on how to identify and assess the risk of falls and identify which interventions, alone or in combination, to offer as part of a person-centred approach.
Assessment tools for Fall Prevention
Proudly Supported by